YOUTH SPORTS
Dover Area Aquatic Club – DAAC offers a variety of aquatic opportunities at the Dover Aquatic Center located at the Dover Area Intermediate School campus for Dover residents.  Programs include a competitive age group swimming team, swimming lessons for all ages and abilities, recreational swimming and lap swimming times, as well as, pool rentals for birthday parties.  Please visit DAAC's website at www.swimdover.org for complete information for all programs.
Dover Eagles Youth Football – dyfaeagles.com
Dover Diamond Sports (baseball/softball) –   Please visit our website for more information – www.doverdiamondsports.com
Dover United Soccer Club – For more information, please visit www.leaguelineup.com/welcome.asp?url=doverareasoccer.
Dover Youth Basketball Association – For more information, our website is http://dybpa.org.
Dover Youth Lacrosse –  Dover Youth Lacrosse is a non-profit organization that was found in 2009.  We strive to provide a learning environment at all levels of play for the youth (both boys and girls) of our Dover Community interested in the great sport of lacrosse.  www.doverlax.com
Dover Youth Wrestling – www.freeteams.com/doveryouthwrestling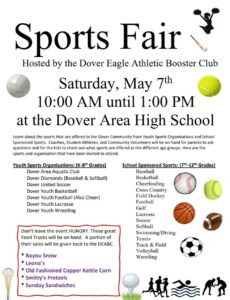 COMMUNITY ORGANIZATIONS
Bob Hoffman Dover YMCA
The Bob Hoffman YMCA offers a variety of programs for all ages.  Scholarships are available for programs and memberships.  Visit our website at www.rosesymca.org or like the YMCA of the Roses – York County page on Facebook.
The Bob Hoffman Dover YMCA provides a holistic range of services intended to better the health & wellbeing of the Dover community.   All programs are open to members and non-members. For more information, visit www.rosesymca.org or call 717-292-5622 for details on programs, membership, and financial assistance.
Dover Area Community Library – Website   Facebook Page