2018 York County Conservation Award Winner
We are pleased to announce that on August 9, 2018, the staff of the Dover Township Wastewater Treatment Facility received the 2018 Outstanding Watershed Stewardship award from the York County Conservation District.  This reflects our mission statement conclusion: We will endeavor to increase our knowledge and skill in modern technology in the science of water pollution control to advance to the point of returning water back to its natural state upon which all forms of life depend.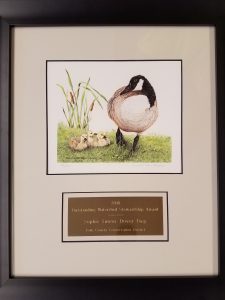 The 2016 Miscellaneous Improvements Project is completed.  This project included the replacement of the belt filter presses with centrifuges and various minor improvements to Train 1 and sludge treatment process:
Replacement of existing dewatering equipment in the existing dewatering building.  This included piping, pumping, transport system replacement to the dewatering pad, polymer system and ancillary equipment as part of the dewatering system.
A new sump pump in Grit Building number 1.
Replacement of the existing scum pit for Clarifier 3 and 4.
A new drain system for Train 1 Oxidation Ditches through the use of suction lift pumps mounted on a support system mounted on the existing walls of the oxidation ditches.  Self-draining piping and valves will be provided to enable alternatives as to where the tank being drained will be pumped to.
Installation of a new grinder at the septic receiving station.
Improvements to the aerobic digesters for better mixing.  This included adding concrete fillets to the corners and extensions of the full floor coverage aeration system.
Structural rehabilitation and improvements to the biofilter media to provide for reliability in future flooding.
The end result of these improvements will be more cost-effective and efficient dewatering of biosolids and improved operations of certain parts of the facility.


---
More WWTP Information