For information regarding taxes and tax collection, please contact the elected Tax Collector using the information below:
Kristine Keener
Elected Tax Collector
3700-6 Davidsburg Rd
Dover, PA 17315 – Directions
(717) 292-4046
The elected Tax Collector has a duty to collect current year taxes for three separate organizations:
Dover Area School District
York County
Dover Township
The Tax Collector collects real estate taxes for all three of these entities. As of 2016, the per capita has been repealed. Delinquent Real Estate taxes are turned over to the York County Tax Claim Bureau at year end.
2017 Budget
Dover Township is proud to present the highlights of the 2017 Budget. No tax increase is projected in this budget. The Board of Supervisors has not increased real estate taxes since 2008, when the millage rate was increased from .828 to 1 whole mil of tax. This means on a $100,000 assessed home, we receive $100.00 in real estate tax to use towards the General Fund Operations. Those operations include Parks and Recreation, Fire, Highway, Solid Waste Collection (Leaf and Brush Collection), Planning and Zoning, Police and Administration.
The breakout of your $100 in real estate taxes is shown in the chart below: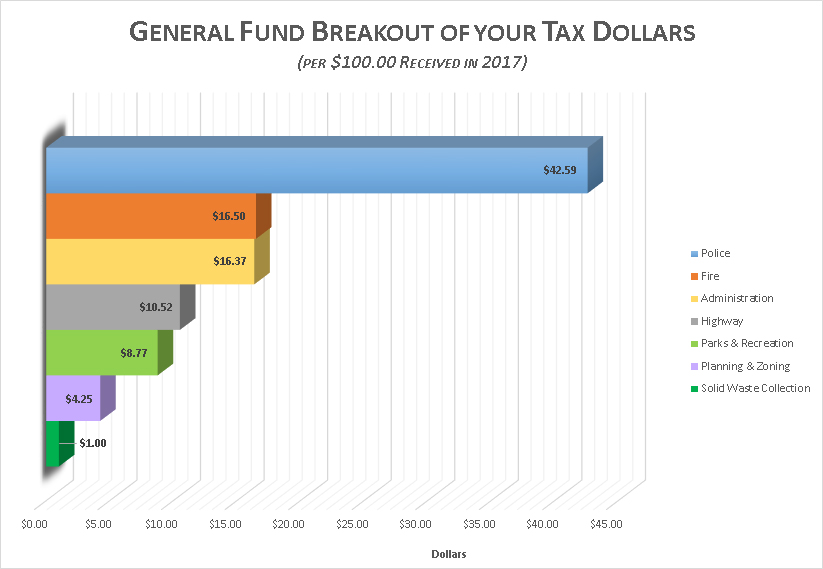 2017 will include various road and stormwater improvements. A left turn lane is scheduled to be installed on Davidsburg Road near Tower Drive and Jayne Lane. Community Development Block Grant Funds will be used to replace a culvert on Nursery Road and the Township will use Liquid Fuels Funds to repair culverts on Rohlers Church and Temple School Roads.
We will be conducting engineering design work on the Oakley Drive area to plan for pipe replacement in that area in a future budget. Sealcoating will be performed on Pinchtown Road (Pine Hill to Paradise Rd.), Salem Run (Pine Hill to the end), Salem Run (Pine Hill to Paradise), Pine Hill (Bridge to Salem Run), Pine Hill (Salem Run to Big Mount), and Rohlers Church (Crone to Bull/patches only). Conewago Road (Fish and Game to Piney Hollow) will receive reclamation, binder and an overlay. Base repair will occur on Fox Run Road. A bridge on Clearview Road will also receive maintenance.
The Budget also includes maintenance work to the Township Building and Parks. We anticipate borrowing $4.5 million to begin a phased garage and municipal building expansion project that will occur between the years of 2017-2018. No tax increase is anticipated to fund this project. An emergency generator from 2016 will continue to be pursued at the Community Building as well as a coating on the roof of the building and replacement of one of the HVAC units. Also, finalization of the baseball field at Edgewood Park and the Community Park Basketball Court will occur.
The Sewer Collection System is currently under a consent order with the Department of Environmental Protection to resolve infiltration and inflow into the system. We have budgeted significant funds to make repairs as breaks, cracks or leaks are discovered within the system. We have completed two lining projects in Cypress South Development/Davidsburg Road and East Canal Road over the last three years. This process is less costly then digging up and replacing existing lines. We have budgeted for another lining project in 2016, which will occur in the Davidsburg Road/Edgewood Park area. The Sewer Authority is preparing for upsizing the Palomino Road Interceptor, a portion of the Joint Use line (located along the Little Conewago Creek) and building a new line north of the Borough for future business growth. The WWTP Plant is currently undergoing a Belt Press Replacement project. The belt presses will be replaced with centrifuge technology.
The Water System is looking at existing wells on Township owned driving range to determine if they are adequate for public water use. We are also replacing water line on Staunton, Highland, Emig Mill, Grandview and Royal during the fall of 2016 into the spring of 2017. Columbia Gas has coordinated to complete work in the Emig Mill Project area immediately following. Paving of Emig Mill will be scheduled in 2018. We are in the process of engineering water on Route 74 North of the Borough to coincide with the Sewer line installation. Well Analysis' will be performed in an effort to prepare for our Water Allocation Permit Renewal in 2018. A water rate increase of $2.59 per quarter on the first 6,000 gallons used and .41 cent increase per 1,000 on each the 6,000 gallon minimum, will be implemented in January. It has been 6 years since the last rate increase. As always, Dover Township will work diligently to provide you with quality services in the most efficient, professional and cost effective manner possible. We appreciate your selection of Dover Township as your home town!
---
More Administration Information