OPEN HOUSE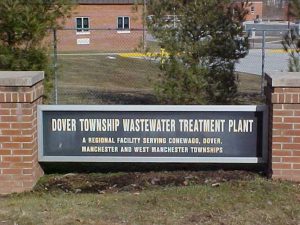 DOVER TOWNSHIP WASTEWATER TREATMENT FACILITY
Tuesday, September 25, 2018
Thank you for attending!  Check back to find out about the 2019 open house.
Clean water today for a better tomorrow!
We invite you to visit the Dover Township Wastewater Treatment Facility OPEN HOUSE on Tuesday September 25 from 3 PM to 7 PM.
Take a guided tour of the facility. Tours will be available throughout the evening.
Take advantage of educational displays concerning water, environment, and related topics.
See how robotic camera inspect sewer pipes.
See why I&I costs all residents a lot of money every year and will cost more in the future.
This is a good opportunity to see practical applications of sciences, especially microbiology, physics, and chemistry. Chemistry Magic in the lab!
Public Works Equipment Touch a Truck and Recreation Department Games.
This regional facility processes wastewater from Conewago, Dover, Manchester, and West Manchester townships.  The facility has completed a $12 million renovation to meet the requirements of the Chesapeake Bay Tributary Strategy, making our clean water even cleaner.
The facility is located at 851 Graffius Road, York, PA just east of Bull Road, and south of Canal Road.  Please, for your safety and comfort, no sandals nor high heels.  Please call 717-292-4911 or 717-292-3634 for more information.