---
Featured Home Grown Business: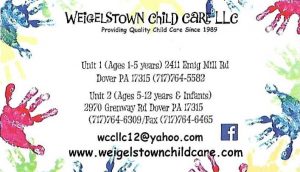 Weigelstown Child Care, LLC
2411 Emig Mill Road
Dover, PA 17315
(717) 764-5582
WCCLLC12@yahoo.com
Directions to Business
Website
Born and raised right here in Dover, Weigelstown Child Care, LLC is a family owned, full service child care center, and is celebrating their 30th anniversary this year! With 2 locations in Dover, they provide care for infants, toddlers, preschool, before & after care, and summer camp. They currently have full-time daycare (4/5 days per week), a preschool program, and offer part-time care consisting of 2/3 days per week. They have been proud to serve different family generations – seeing children who enrolled many years ago who now bring their own children to Weigelstown Child Care. Some former students have even come back to work at Weigelstown Child Care! Employing 29 workers, serving 2 school districts (Dover & West York), and providing transportation for six elementary schools (including operating as a bus stop for Leib Elementary), Weigelstown Child Care most values the people living in and serving their community. They are looking forward to seeing local businesses and organizations move forward and grow here in Dover Township. Cheers to 30 more years!
Would you like to see your home grown business featured? Please download and complete the
Home Grown Business Application
---
Dover Township Invites You to
Bring Your Business Here…
Excellent Utility Services
Columbia Gas (Natural Gas Service)
1-888-460-4332
Website
Met-Ed (Electric Service)
1-888-544-487
Website
Adams Electric (Electric Service)
1-888-232-6732
Website
Comcast (Phone, Internet and Cable Service)
1-800-934-6489
Website
Dover Township (Water Service)
(717) 292-3634
Current Pricing
Dover Township (Sewer Service)
(717) 292-3634
Current Pricing
Verizon (Phone, Internet and Fios Service)
1-800-837-4966
Website
Under-served Business Markets
Retail Shopping/Boutiques, Dry Cleaner, Cellular Service, Convenience Stores,  etc.
Medical Facilities: Urgent Care, Services Ancillary to Memorial Hospital
Restaurants
Banquet Facilities/Family Entertainment Centers/Recreation Facilities/Sporting Complex
Hotels/Motels/Bed and Breakfasts
Small and Medium Sized Manufacturing
Office (Marketing, Design, Technology, Law, Engineering, Printing, Financial Services)
Energy Markets
Agriculture and Food Production
Agri-tourism/Local Food System
Are you interested in providing a suggested business to our list?  Please click here to do so.
Dover Township Business & Economic Local
Our Location
Dover Township, located in the northwestern part of York County, is about eight miles from the City of York and thirty-four miles from the City of Lancaster. The cities of Carlisle and Harrisburg are both approximately the same distance (twenty-six miles) from Dover Township. Harrisburg is directly north of Dover Township while Carlisle is to the northwest. Dover Township is approximately twenty-eight miles from the City of Gettysburg.
Our Surroundings
As part of York County, Dover Township finds itself located in close proximity to major cities along the eastern seaboard of the United States. Due to these factors, Dover Township as part of York County is considered to be on the fringe of "megalopolis", the emerging super-city conceived to be developing along the Atlantic Coast from Boston, Massachusetts to Norfolk, Virginia. As this super-city develops, its economic, cultural and social influences will be welcomed and received within York County and within Dover Township.
Transportation
Several highways are readily accessible to the residents of Dover Township to provide access to the major cities of the region. United States Route 15 and United States Route 30 provide access to cities such as: Gettysburg, Harrisburg, Lancaster and various points east. Interstate 83 provides access to Baltimore and Washington, D.C. to the south and to the following cities: Harrisburg, Philadelphia, New York and various other cities to the northern portion of the Pennsylvania Turnpike. Pennsylvania Route 74 which navigates the Township from northwest to southeast, supplies connections between Carlisle and the City of York. If you need assistance getting to Dover Township, simply contact our municipal office and someone will be more than happy to provide you with directions!
Demographics
For information on demographics, please download the file below:
Priority Development Parcels
Hilton Ave / Bull Rd

130+ acres available for Commercially Zoned Development. Public Water and Sewer available.
Interested in this property? Please use the contact information below:
Andy Collins – (717) 870-7110
Mark Roberts – (717) 880-1343
Land Behind 4911 Carlisle Rd

Land is located behind the Dollar General at 4911 Carlisle Rd and Zoned Commercial.
Public Water and Sewer available.
Interested in this property? Please use the contact information below:
 Greg Finkelstein
Rock Commercial Real Estate
gfinkelstein@rockrealestate.net
(717) 855-5456 Phone
Dover Industrial Park

Zoned Industrial with access to both Public Water and Sewer.
Interested in this property? Please use the contact information below:
Timothy Kinsley
Vice President of Development
tkinsley@rkinsley.com
(717) 741-8339 Phone
(717) 324-2136 Mobile
Carlisle Rd

Public Water available. Zoned Business Park with 28+ acres and lots already subdivided into 2, 3, 5, 6 and 9 acre parcels.
Interested in this property? Please use the contact information below:
Eli Dobrinoff, Jr
Land Owner
(717) 432-5720 Phone