Discount Tickets have arrived!
Tickets must be purchased at the Dover Township Building with CASH ONLY.  Ticket purchases are not refundable.
Dover Township Recreation Cookbook 
Need a gift idea for that "hard to buy for" person? Why not get them our Dover Township Recreation cookbook.
"Tastes From The Country" includes recipes collected in the 1990s from residents of Dover Township. There are also some newer recipes added by Dover Township staff.
You can purchase your cookbook at the Dover Township Building during normal hours (M-F 8-4:30) with check or cash. The cookbook sells for $12.
In 2019, we will begin collecting recipes for the second edition. Watch for announcements if you would like to add your recipe.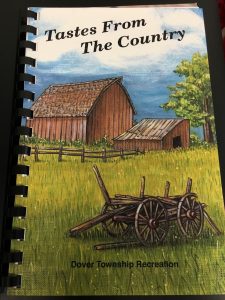 Upcoming Events: 
Summer Movies
Thursdays (see dates below) – Dusk – Lehr Park (3700 Davidsburg Rd.)
July 18 – The Lego Movie 2
August 8 – Jumanji (2017)
August 22 – Incredibles 2
Old Fashioned Carnival
Wednesday, July 24 4-8pm – Brookside Park
Games, Food, Cakewalks with the Emigsville Band, bounce house, caricatures, face painting, dunk tank, caricatures, balloon twisting, spin art. Old time fun at old time prices!
PLEASE NOTE – Grandpop Bubbles will be at the 2020 Old Fashioned Carnival (not 2019). To see him in 2019, come to our Halloween in the Park event in October.
Young Living Essential Oils 101 – Back to School with Oils
Sunday, July 31 – 6:30-8pm – Log House (2481 W. Canal Rd.)
Please watch this space for future essential oils classes.  Pre-registration is required – www.DoverTwpRec.com
There are about 300 oils on the earth, but you only need 10-20 of them to get started.  You don't need to be an aromatherapist to use them safely.  There are several ways to use essential oils and thousands of reasons why.  Come learn the hows and whys of essential oils.
We will touch base on essential oil history.  We will find out if they work.  Are they safe?  There are different categories of essential oils.  Are they authentic?  Have they been manipulated?  Are they synthetic?  How are they made? Come find out the answers to these questions and many more.
At the end of the class, get scanned with The iTOVi, a class II medical devise that will scan you and tell you what essential oils your body needs for your health and wellness.
We are looking forward to seeing you and sharing some very valuable information about essential oils.
Hosted by Michele Hummel, Young Living Wellness Coach
Class is free
Summer Concert Series 
Sundays 6-8pm – Gazebo Dover Community Park (2481 W. Canal Rd.) – Rain location – Carousel (4054 Fox Run Rd.) unless otherwise noted
August 11 – Spring Garden Band (concert band)