Discount Tickets
Tickets will return in 2020!  Watch this space for more info.
Dover Township Recreation Cookbook 
Need a gift idea for that "hard to buy for" person? Why not get them our Dover Township Recreation cookbook.
"Tastes From The Country" includes recipes collected in the 1990s from residents of Dover Township. There are also some newer recipes added by Dover Township staff.
You can purchase your cookbook at the Dover Township Building during normal hours (M-F 8-4:30) with check or cash. The cookbook sells for $12.
In 2019, we will begin collecting recipes for the second edition. Watch for announcements if you would like to add your recipe.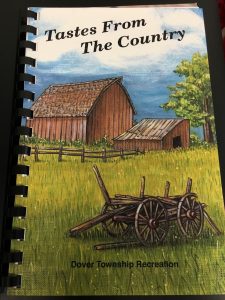 Upcoming Events: 
Over 30 Basketball
7-9 pm –  Tuesdays January 7 – April 14 – North Salem Elementary School Gym
No sessions on February 25th and March 24th.
$1 per night.  Call Dale at 292-6093 for more information.
Wellness Classes with Pamela Kramer
Classes are held at the Community Building in the kitchen. (3700 Davidsburg Rd.).  All classes are $45/person.  Registration is available at www.DoverTwpRec.com
Class Instructor – Pamela J Kramer, owner of Kramer at Market LLC
Kramer at Market sells their own brand of healthy choice products including spices, herbs, teas, essential oils and personal care items.  Pamela holds a degree in Marketing, as well as Education.  She has been blending herbs and teas for better health and making natural personal care products for retail sale for over 15 years.
Class info:

Making Natural Home Cleaning Products – 3/5/20 9:30am-1pm; 3/24/20 4:30-8pm
From vinegar, to baking soda, to essential oils, you will learn about choosing the right ingredients for the job.  We will make several home cleaning products in class and take home samples of those products are included.  Class runs approx. 3-3.5 hours.
Travel Meeting With Collette
March 11 – 6pm – Heritage Senior Center (3700 Davidsburg Rd – enter rear of building near playground)
A Collette Representative will be discussing our two upcoming trips:
Iceland's Magical Northern Lights: November 29th – December 5th, 2020
Discover Canyon Country: April 7th – April 14th, 2021
A MATTER OF BALANCE
Many older adults experience concerns about falling. A MATTER OF BALANCE is an award-winning program designed to manage falls & increase activity levels.
This program emphasizes practical strategies to manage falls.
This FREE class is held twice a week for 8 sessions for those 60+ years. Space is limited!
Location: Dover Township Community Room 3700 Davidsburg Rd. Dover, PA 17315
Dates: Tues. & Thurs. April 30th, May 5-26 & June 2nd
                      No class on Thurs. 5/7 & 5/28
Time: 1:00pm – 3:00pm
To register: Call Faye @ YCAAA 717-771-9610