Discount Tickets
Tickets must be purchased at the Dover Township Building with CASH ONLY.  Ticket purchases are not refundable.
Dover Township Recreation Cookbook 
Need a gift idea for that "hard to buy for" person? Why not get them our Dover Township Recreation cookbook.
"Tastes From The Country" includes recipes collected in the 1990s from residents of Dover Township. There are also some newer recipes added by Dover Township staff.
You can purchase your cookbook at the Dover Township Building during normal hours (M-F 8-4:30) with check or cash. The cookbook sells for $12.
In 2019, we will begin collecting recipes for the second edition. Watch for announcements if you would like to add your recipe.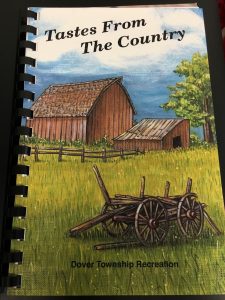 Upcoming Events: 
Young Living Essential Oils Classes
All Things Thieves
Sunday, September 22 – 2-4pm – Log House (2481 W. Canal Rd.)
Young Living's unique Thieves blend is crafted in the tradition of four 15th-century French thieves who created a special aromatic combination of clove, rosemary, and other botanicals. Our Thieves products bring plant-based alternatives to your home, so you can replace harsh chemicals with naturally derived formulas that work hard and smell amazing.
Pets & Essential Oils
Thursday, September 25th – 6:30-8pm  Log House – FREE
Learn how to best help your pet the non-toxic way for their best life!  This class will focus mostly on dogs, but will touch a little on cats.  Essential oils can be used on most animals – dogs, cats, birds, fish, horses, livestock, ferrets, guinea pigs and rabbits.  Did you know there are canine reflexology points?  Many essential oil enthusiasts report the correlation between points on a dog's hind paws and their body.  Learn more about Young Living's Animal Scents products.
Family Fun Fest
Saturday, October 5 – 11am – 4pm – Lehr Park (3700 Davidsburg Rd.)
Family Fun Fest is BACK with fun stuff for the whole family!
For the BRAVE – try out the Zip Line, jump like they do in the movies at Sky Fall Stunt Jump, or test your ninja skills at the Ninja Warrior Ultimate Challenge!
PLUS: climb the Rockwall, ride the Trackless Train, jump in the Moonbounces, test out the Super Slide or bounce at Monkey Motion.
NEW! Be sure to check out the Petting Zoo with Barn Yard Animals.
More Fun: Jam with the DJ, Magic Shows at 11am and 1pm (near pavilion), Henna, Face Painting, Balloon Twisters, Caricatures, Games, Photos with Princesses and Heroes, and FOOD!
Vendor spaces still available.  Please go to www.DoverTwpRec.com to apply.
PLEASE NOTE – we are setting up this event differently than previous years. Please watch signs for parking.
Public Night Sky Viewing
Monday, October 21 – 7pm – Lehr Park (3700 Davidsburg Rd.)
Join us as we learn from Night Wonders of Astronomy about the fall sky. Then we will get a chance to look through the telescope to see the things we learned about.
This event is FREE!
Wellness Classes with Pamela Kramer
Classes are held at the Community Building in the kitchen. (3700 Davidsburg Rd.).  All classes are $45/person.  Registration is available at www.DoverTwpRec.com
Class Instructor – Pamela J Kramer, owner of Kramer at Market LLC
Kramer at Market sells their own brand of healthy choice products including spices, herbs, teas, essential oils and personal care items.  Pamela holds a degree in Marketing, as well as Education.  She has been blending herbs and teas for better health and making natural personal care products for retail sale for over 15 years.
Class info:

Making Natural Herbal Remedies – 10/17 9:30am-1pm; 10/22 4:30-8pm
You will learn simple techniques for using and preparing loose leaf teas, dried herbs, roots and seeds.  Class includes and instructor lead presentation, sampling of classroom blends, hands on making of preparations, and take home samples of items made in class.  Class runs appox. 3-3.5 hours.
Processing and Pickling Beets – 10/19 9:30am-1pm
Hands on processing of beets from the ground to the jar.  You will learn to clean, cook, dice and pickle beets.  Everything you need to know from start to finish.  I will share my pickled beet recipe and we will make pickled beets with red beet eggs.  Take home will be a quart jar of pickled beets and eggs.  Class runs approx. 3-3.5 hours.
Making Natural Personal Care Products – 11/12 4:30-8pm; 2/6/20 9:30am-1pm
You will learn about use of carrier oils, dried herbs, and essential oils in making a variety of products such as infused oils, lotions, sprays, salves, etc.  We will make several products in class and take home samples of those products are included.  Class runs appox. 3-3.5 hours.
Making Fermented Sauerkraut – 11/21 9:30am-1pm
You will learn easy steps and tricks of making and storing sauerkraut at home.  You will slice, mix and pack using my home recipe.  Take home will include a 1/2 gallon fermenting kit filled with fermenting cabbage that will be ready to eat for your New Year's Day celebration.  Class runs 3-3.5 hours.
Making Natural Home Cleaning Products – 3/5/20 9:30am-1pm; 3/24/20 4:30-8pm
From vinegar, to baking soda, to essential oils, you will learn about choosing the right ingredients for the job.  We will make several home cleaning products in class and take home samples of those products are included.  Class runs approx. 3-3.5 hours.