Discount Tickets
Tickets will return in 2020!  Watch this space for more info.
Dover Township Recreation Cookbook 
Need a gift idea for that "hard to buy for" person? Why not get them our Dover Township Recreation cookbook.
"Tastes From The Country" includes recipes collected in the 1990s from residents of Dover Township. There are also some newer recipes added by Dover Township staff.
You can purchase your cookbook at the Dover Township Building during normal hours (M-F 8-4:30) with check or cash. The cookbook sells for $12.
In 2019, we will begin collecting recipes for the second edition. Watch for announcements if you would like to add your recipe.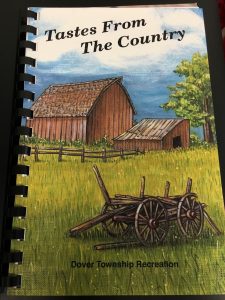 Upcoming Events: 
Zumba, Yoga, Walk 15, Silver Sneakers classes are canceled starting March 15th with a restart goal of April 13th.
Over 30 Basketball will follow the Dover Area School District's schedule. If school is closed during the day, the evening basketball session will be canceled.
Over 30 Basketball
7-9 pm –  Tuesdays January 7 – April 14 – North Salem Elementary School Gym
$1 per night.  Call Dale at 292-6093 for more information.
Dover Borough & Dover Township Present:  2020 Easter Egg Hunts & BunnyFest 
EASTER UPDATE:
BunnyFest is canceled and will not be rescheduled. We will try again next year. We were looking forward to sharing this event with the Dover Borough and bringing you all some new springtime family fun. Don't worry – it will be bigger and better next year. 🙂
All of the Egg Hunts are canceled – Flashlight, Ages 0-9, and Special Needs.
we know how much this event means to you (and to us!!) and we have put together a special plan for this year.
We will be doing an Easter candy pick up (by VEHICLE ONLY) at LEHR PARK on FRIDAY, APRIL 10th at 10AM. We will hand out baggies of candy while supplies last. The Easter Bunny will be on site so the children can wave at him from the car.
IMPORTANT: Enter Lehr Park from Davidsburg Rd and follow the signs around the edge of the parking lot.
Candy pick up will be at the pavilion – BUT YOU MUST FOLLOW THE OUTLINED ROUTE.
Children MUST be present in the car. No, you can not take a bag for a child that is not there.
No one will exit the vehicles.
Once you have your candy, you will exit the parking lot on the back side of the building by passing the library and going towards the playground. You will follow the route around the back of the building and then come out at Davidsburg Rd.
Candy was also donated to the Dover Area School District to be handed out with the lunches. We also gave baggies of candy to New Life for Girls. The big Easter prize baskets were donated to New Hope to be distributed to children of the Dover Community who are in need.
Thank you for your understanding as we work through this complicated time. Please be safe and please wash your hands. 🙂
A MATTER OF BALANCE
Many older adults experience concerns about falling. A MATTER OF BALANCE is an award-winning program designed to manage falls & increase activity levels.
This program emphasizes practical strategies to manage falls.
This FREE class is held twice a week for 8 sessions for those 60+ years. Space is limited!
Location: Dover Township Community Room 3700 Davidsburg Rd. Dover, PA 17315
Dates: Tues. & Thurs. April 30th, May 5-26 & June 2nd
                      No class on Thurs. 5/7 & 5/28
Time: 1:00pm – 3:00pm
To register: Call Faye @ YCAAA 717-771-9610