Upcoming: 
For the most up to date information – please visit our Facebook page – www.facebook.com/DoverTwp
Summer Concert Series
Concerts are at the Gazebo (2481 W. Canal Rd.).  Food trucks will be available at each concert.  Come grab a bite and enjoy some music with us!

July 11 – FIERCE – 6pm (Rock/Classic Rock)
August 8 – Spring Garden Band – 6pm (Concert Band)
September 12 – Silly Goose & Val – 4pm (Kids' Concert)
Movies in the Park (with food trucks!)
Friday nights at Brookside Park – 4054 Fox Run Rd. (see dates below)
Food Trucks – 5-8pm
Bring your lawn chairs to claim your spot for the movie. You will be sitting on the parking lot – not the grass.

Enjoy some music or play on the playground while we wait for it to get dark. The movie will start at dusk.

Popcorn available closer to movie start.

Pick a pop on the lollipop tree and maybe win a prize!

Park in the upper grass area.

Movie Dates:

June 25 – Jumanji:  The Next Level
July 2 – Frozen 2
July 16 – Spiderman: Into the Spider-Verse
August 13 – JAWS
August 20 – Jurassic Park
September 3 – Up
September 10 – Back to the Future
September 24 – Pokémon:  Detective Pikachu
Get Hooked!  Virtual Fishing Tournament 
July 2-11
Ages 5-15
Pre-register at www.DoverTwpRec.com
This program is presented by YARD (York Area Recreation Directors).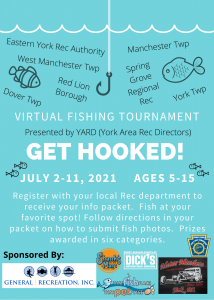 Chicken BBQ – Benefitting the Dover Library, Dover Township Fire Dept and Dover Rec!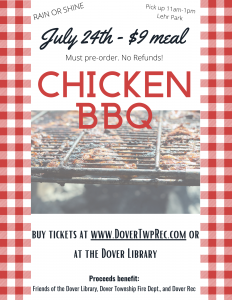 Buy tickets at www.DoverTwpRec.com.  Pay online with a credit card (service fee) or at the Dover Township Building (2480 W. Canal Rd.) with check/cash (no fee).
Meal includes: 1/2 chicken, applesauce, potato, roll, utensils.
Tickets also available at the Dover Library and Johnny's Raceway.
Proceeds benefit:  Friends of the Dover Library, Dover Township Fire Dept and Dover Rec.
Thank you for supporting your community!