Dover Township Recreation Cookbook 
Need a gift idea for that "hard to buy for" person? Why not get them our Dover Township Recreation cookbook.
"Tastes From The Country" includes recipes collected in the 1990s from residents of Dover Township. There are also some newer recipes added by Dover Township staff.
You can purchase your cookbook at the Dover Township Building during normal hours (M-F 8-4:30) with check or cash. The cookbook sells for $12.
In 2019, we will begin collecting recipes for the second edition. Watch for announcements if you would like to add your recipe.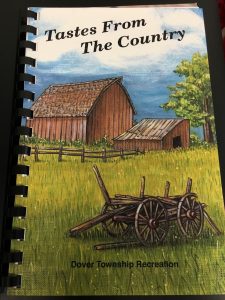 Upcoming Events: 
Indoor Soccer
We will be hosting Soccer Shots again this winter at the Dover Community Building.  This is a great way to keep your 2-5 year old active through the winter.  Registration is done through Soccer Shots at www.soccershots.org/york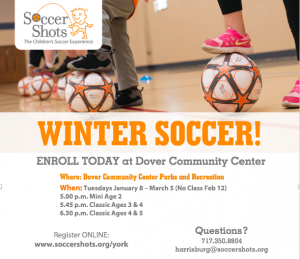 Dover Parks and Rec winter 2019 Newsletter
Over 30 Basketball League
Tuesdays evenings 7-9pm – January 8th – April 16th – North Salem Elementary School Gym
Cost: $1 per night.  Call Dale at 292-6093 for more information.  This program is co-ed.
Groundhog Day
February 2nd
7am Prognostication – Log House (2481 W. Canal Rd.)
8am-11am – Pancake Breakfast – Community Building (3700 Davidsburg Rd.)
Help us wake up Dover Doug to see what his weather prediction for 2019 will be!  Attend the prognostication and receive a FREE ticket to the Pancake Breakfast.
Pancake Breakfast tickets available at the door or online at www.DoverTwpRec.com. Cost:  Adult (11-62) – $5; Seniors (63+) – $3; Child (2-10) – $3; Under 2 are free