"We don't stop playing because we grow old.  We grow old because we stop playing." – George Bernard Shaw
Being well, having fun, and strengthening our communities are some of the ways that local parks and recreation enhance the lives of all Pennsylvanians. It's good for you. It's good for all. We welcome you to click the Find Local Parks button and start finding some good of your own right here in Dover Township.  
Brookside Park
This park was created in 1901 as a "trolley park".  The trolley may be gone, but great times can still be had at Brookside Park.  The park sits in a grove of mature trees with a stream running though.  This is a great park for weddings and family reunions.  Guests can enjoy basketball, sand volleyball, horseshoe pits, and a short walk will lead to a baseball field.  There is also a playground at the park.  Brookside Parks plays host to several Dover Township Recreation events including Flashlight Easter Egg Hunt (ages 10-18), Brookside Music Festival, Old Fashioned Carnival, and Christmas in the Park.
Four buildings are available for rentals from Mid-April through late October.  We do not allow alcohol in our parks or rental locations.  Please see the Rentals & Pricing Page for information on each building.
Dover Community Park
Families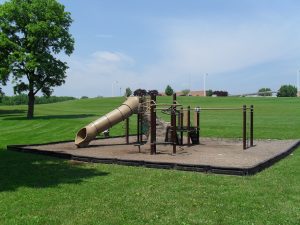 can enjoy the two playgrounds at this popular park.  Two bridges cross the stream that flows through the park.  Be sure to keep your eyes open for goldfinches in the summer.  There is a pavilion that is available for rentals from Mid-April through the end of October.  The Gazebo is also available for rent and is a popular place for weddings.  Dover Doug delivers his prognostication every February at the Gazebo.  The Gazebo is also the location of our Summer Concert Series which offers free concerts on the second Sunday in May, June, July and August.  Summer Playground is held at Pavilion 1 for six weeks in June/July.
This park is home to two historic buildings.  The Log House was moved to this location in 1983, piece by piece and reconstructed.  The Dover Jail was moved from its original location in the Dover Borough.  Be sure to read the plaque about the interesting history regarding the jail.  Information on renting the Log House, Gazebo and Pavilions can be found on our Rentals & Pricing Page.
Lehr Park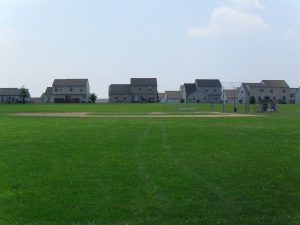 This park offers baseball and soccer fields and a popular 1/2 mile walking trail.  The local youth sports teams use the fields for practices in spring and fall.  This is also a location for our Summer Playground program in June/July.  There is a playground to the rear of the Community Building (near the Heritage Senior Center entrance).  In October, Family Fun Fest takes over this space with all kinds of fun activities for families.  This park is also the location for the Easter Egg Hunt (ages 0-9 and Special Needs), Movies in the Park and Halloween in the Park. Please see the Rentals & Pricing Page for information on pavilion rentals.
Edgewood Park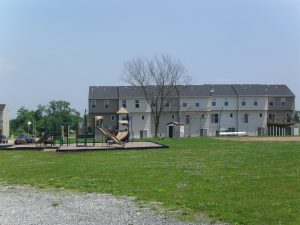 This park is in the Salem Run development.  There is a playground and two small baseball fields.
Mayfield Park
(Tri-Town Football)
This park is home to the Tri-Town Football organization.  Tri-Town has been a staple of the Dover Community for fifty years.  Many Dover Area High School football players came through this program.  This park also has a playground.