GUIDE FOR DOVER TOWNSHIP RESIDENTS
Dover Township Building & Grounds would like to share some of the issues we encounter during leaf and brush collection.  Your help can speed up these operations, control costs, and create a safer working environment for our crews.
Dover Township is the second largest township in York County with the third largest population. Our crews must cover 121 miles of township roads and 49 miles of state roads to complete a single pass.   That's over 340 miles up one side of the road and down the other. This distance equals a round trip drive from Dover Township to Ocean City, New Jersey (346 miles via I-76).  A single pass can be completed in approximately one week if we are lucky enough to have no interruption or issues.
Here are some things that can really help us to continue to give you this great service:
LEAF COLLECTION
Fall Leaf Collection to be determined.
Leaves should be raked to the curb and placed in a linear pile.
Try to place leaves to be easily accessible and away from objects such as poles, mailboxes, etc.
Do not park vehicles in front of or on top of leaf piles.
We cannot accept grass clippings since we do not have place to take them. Place grass clippings in bags and put them with your trash collection.
Please do not mix brush or shrubbery into leaf piles brush. These items will not pass through the leaf machine and get stuck in the vacuum tube.  This can become a time-consuming and costly problem for us.
Leaf collection is a labor intensive process. Unfortunately, it also coincides with the holiday season as well as deer season when employees want time off.  Mother Nature adds to the chaos with a threat of the dreaded snowfall.  A single crew consists of two dump trucks with drivers, a leaf machine with an operator and a leaf raker. It takes 4 people to create a leaf collection crew.  The Township owns three leaf machines and we do our best to have all three machines with crews on the streets, but because of the time of year, it is difficult to steadily man all three machines at once.  If snowfall would occur during leaf collection, we have to strip leaf equipment from the dump trucks, take care of the snow, then re-equip the trucks with leaf equipment and continue leaf collection. Resumption of leaf collection can only occur if the snowfall is not too great.  A significant snow can cover the leaf piles, making it impossible to locate, especially if covered with plowed snow.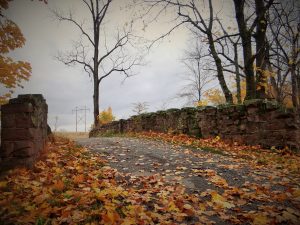 Our goal for 2016 is to complete three full rounds, and increase service on our flagging roads.  A flagging road is defined as a road that has a high volume of traffic, has dangerous hills or curves that limits your visibility to see our work crews, or a roadway that has a higher speed limit.  Leaf and brush collection are rated per Penn-DOT as a moving work zone, such trash collectors and recycling collection. Signage moves with the crews and may cause confusion to the motorist.  Our crews do wear the required bright apparel for your safety and ours.
Flagging Roads
| | | |
| --- | --- | --- |
| Admire Road | Davidsburg Road | Harmony Grove Road |
| Emig Mill Road | West Canal road | Clearview Road |
| Ruppert Road | East Canal Road | Sky Top Trail |
| South Salem Church Road | Fox Run Road | Nursery Road |
| Baker Road | Bull Road | Mountain Road |
| Carlisle Road | Hilton Avenue | Poplars Road |
| Butter Road | Oakland Road | Rohlers Church Road |
| North Salem Church Road | Old Carlisle Road | Park Street |
| Cardinal Lane | Blackberry Road | Grenway Road |
| Temple School Road | Cherry Orchard Road | George Street |
| Taxville Road | Schoolhouse Road | Beisecker Road |
BRUSH COLLECTION
* * * NEW PROCEDURE FOR BRUSH COLLECTION * * *
Place your brush along the public (township or state) road before 7 A.M. on the date for your area of the township.
AREA 1 – April 23, 2018
AREA 2 – April 30, 2018
AREA 3 – May 7, 2018
AREA 4 – May 14, 2018
AREA 5 (Canal & Carlisle Roads) – May 21, 2018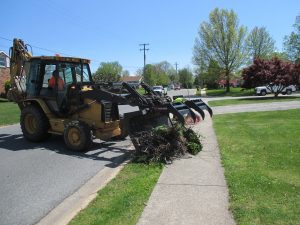 Here are some things you can do to help us:
Place brush parallel to the curb.
Brush should be within 5' from the curb. If the ground is wet, we cannot reach the brush without causing damage to your property.
Length of the brush should not be longer than 8' so it fits into our truck.
Please call Dover Township and report your address after you have placed brush curbside for pick up.
Try to avoid placing brush behind, near, or around obstacles such as poles, mailboxes, etc.
Do not park in front of or on top of brush pile.
Please, no Bamboo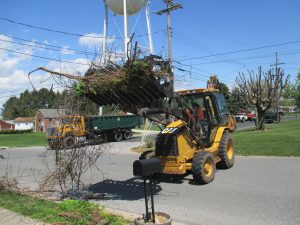 Brush collection is done twice a year, once in the spring usually starting the Monday of the third full week of April to the last Friday of the second full week in May (4 weeks).
The second brush collection usually begins the Monday of the third full week in September and continues to the Friday of the last full week in October (6 weeks).
We follow the same rules for the flagging roads as leaf collection. Safety of our collection crews must always come first.
Dover Township does supply a brush drop off area located to the rear of the Township building at 2480 West Canal Road at the salt dome. The gate is open from 7:00 A.M. to 4:00 P.M. every second and fourth Saturday. This drop off is for residents of Dover Township only.
Thank you for help,
Your leaf and brush crew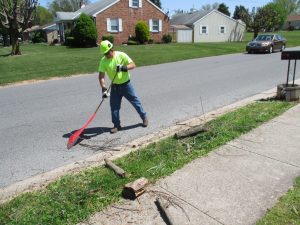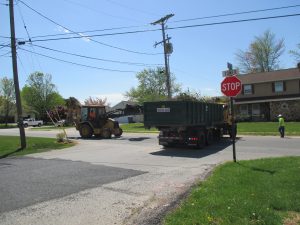 ---
More Public Works Information