Please be advised that starting May 5, 2023, weather permitting, Aerial Solutions Inc. will be conducting additional Aerial Saw Operations in Met-Ed territories within York County. The helicopter has a saw consisting of multiple 24-inch rotary blades powered by a motor suspended on a vertical boom beneath it. As the helicopter flies slowly along the right-of-way, the aerial saw cuts and trims trees and other vegetation.
Operations are scheduled in the following municipalities: Conewago Township, Dover Township, E. Manchester Township, Jackson Township, Manchester Township, Newberry Township, West Manchester Township, York City, and York Haven Borough.
Aerial Saw – Aerial Solutions Inc., White & Yellow MD 500 E with Blue Stripe, Tail Number N1107T – see attached photo: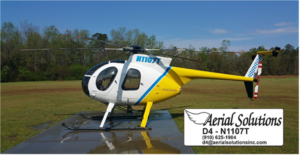 The following link will take you to a short video, showing a similar sawing operation in action:
The pilot will be in communication with any local Airports, when in their airspace. As always, poor weather and emergency patrols/repairs elsewhere may cause re-scheduling and/or delays.